:: When it rains... war still goes on
Posted On: September 24, 2009 By Apollo



The War Doesnt just end even in worst weather, in fact... some of the maps will have such weather conditions and they will influence visibility (not in this video) and anything else we can think of.

Also another big tank is show cased for its main ability even tho Nexus AI puts somewhat quick stop to its menace


Plan was to be 3 parter but technical issues cut it short but enjoy regardless.


:: Happy New Year 2009!
Posted On: January 1, 2009 By Apollo

:: Riddle is out and more...
Posted On: August 10, 2008 By Apollo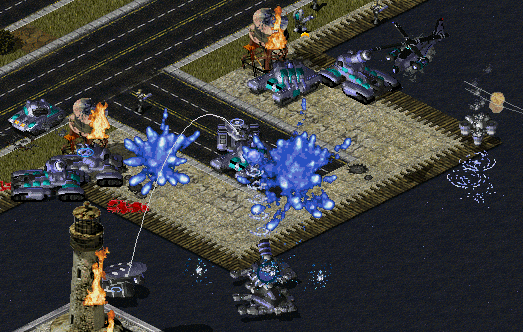 Hey all, RS is back with another update showcasing latest developments and additions and the riddle given earlier meant return of the Shredder and check video of it in YouTube

and then the first ever complete match game as Freedom League, comes in 4 video parts so enjoy.

Part 1

Part 2

Part 3

Part 4 finale

and finally I put up some pictures in this Thread at the forums


:: Legion Fun :p
Posted On: June 1, 2008 By Apollo

Hey all! long overdue update is finally here and its about AL showcasing some newer developments


next in pipeline for coming news is to showcase remaining special osiris units and show the remaining trump cards of FL.

Oh just for record, this is pretty WIP and units in question aren't quite standard fare things so witness the AL Might at best


so part 1 Exodus pt.1 youtube

and part 2 Exodus pt.2 youtube


:: Do robots feel cold?...
Posted On: March 18, 2008 By Apollo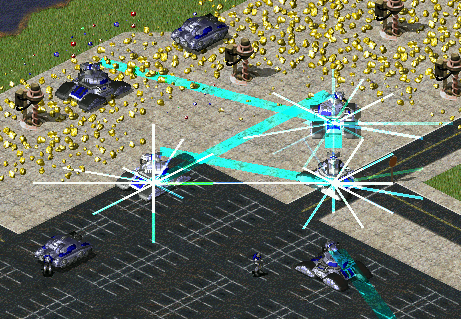 Showing off the 2.0 Ice/Cryo Tank (thx Tony for vxl!) with its cool ice ray and with this update are 3 all new videos!



Ice Tank in action video



Nexus Tactics addons in 2.0 showing a bit of how nexus has evolved


and finally



AI Wars, more of a little observation video of how AIs battle it out with Nexus being more aggressive in this game.