:: The never ending war
Posted On: February 26, 2008 By Apollo

Here it is, a brand new kick ass video as usual, in youtube showcasing that extreme action with those BIG weapons and especially the one big weapon that just devastates whole armies and yes I lost the nexus core to one sneaky decimator but battle isnt over...new mcv for the win...
Never ending war youtube video
:: the last Osiris special tactic (youtube vid)
Posted On: December 26, 2007 By Apollo

Namely, instead of just trying destroy enemy straight or shielding your own units, you can infest approaching enemy units with these organic mutations (nice tribute... )

infested units movement is hindered but firing is not as much but of course repair units can easily fix the infested units back to normal


as for how does one get them, not by factories


Youtube watchz0r

Anyway good even if a bit late christmas for everyone while we not see RS 2.0 in year 2007, 2008 is certain
:: RS 2.0 AL Preview!
Posted On: August 11, 2007 By Elerium

-**Message to training Allied Legion Commanders** Subject: 238#4L#6B Allied Legion Battlefield Footage-

Commander Elerium here to bring you up to date on the latest tactical and technological advancements of the Allied Legion against the robotic nemesis of NEXUS which plagues us all. As you will see in the following video footage, you trainees will be well familiarised with some of the units you'll see there, the ones you're used to simply being simulation toys more than anything, as well as additional new ones brought straight from the lab, which I can only guess at how much you'd want to pound those toasters with! Remember to learn from the tactical analysis commanders, dismissed!

--Message Ends--

Part 1-
Part 2-


:: what music would 2.0 bring?
Posted On: July 5, 2007 By Apollo

so ya you might have asked that from yourself and in fact..i will make a Osiris specific music pack for the mod and you can find the 3 sample mp3s from this folder

and i could go as far as give new mp3 every week from the new pack so you got something to look forward to
:: Resistance is FUTILE
Posted On: June 25, 2007 By Apollo

As Allied Legion forces tried to blockade this pass they faced a more HOT resistance than they expected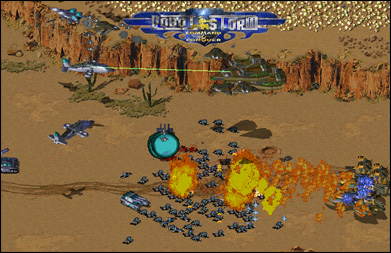 Yeah barbecue be a good idea...